Company History
LG has a long history in solar photovoltaics beginning over 30 years ago when they first began research into silicon crystalline cells. The next 20 years of research and development laid a solid foundation before LG started large scale PV module manufacturing in 2009 at their facility in Gumi, South Korea. LG solar is a subsidiary of massive LG Corporation, the South Korean multinational company with over 220,000 employees globally and total revenue in the tens of billions.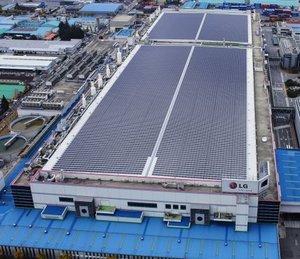 The LG solar module manufacturing facility in South Korea. Image credit LG Newsroom
After close to 10 years of PV module manufacturing LG are now onto their fourth generation panels and produced over 2GW of panels in 2017. As a Tier 1 manufacturer holding numerous awards, ultra-efficient cell technology and industry leading warranty there are very few solar companies who can compete at this level of quality, service and reliability.
In Australia and north America, LG modules although more expensive than the competition, are very popular and it's not hard to see why. LG panels are highly rated by customers and solar installers alike as they not only look impressive with the black anodised aluminium frames but the construction quality, detail and finish are of the highest standard.
Panel And PV Cell Technology
While most manufacturers produce a range of both mono and polycrystalline panels, LG only manufacture monocrystalline N-type cells which have greater efficiency and lower degradation compared to more common lower cost poly or multicrystalline P-type cells.
The LG Neon 2 cells with multi-wire 'cello' technology (click to enlarge)
The latest generation Neon 2 modules have firmly established LG as the leaders in multi-wire cell technology with 12 round wire busbars and the unique finger design being incorporated into all Neon 2 and Neon 2 bifacial modules. The N-type 'Cello' cells look impressive and improve performance and conversion efficiency. Cello technology is explained in more detail in the PV cell technology review article.
LG solar panel efficiency
Neon 2 efficiency – up to 20.4% at 350W
Neon R efficiency – up to 21.7% at 375W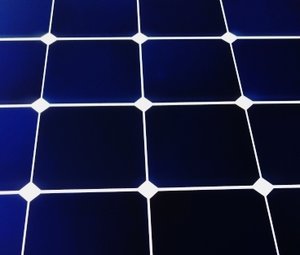 LG use N-type IBC Interdigitated Back Contact cells on the Neon R 360-370W modules
IBC cells
LG along with SunPower are the only two manufacturers producing high volume IBC orInterdigitated Back Contact N-type cells. The LG Neon R IBC cells use 30 busbars integrated into the rear side of the cell which means there are no visible busbars on the front of the cell and in turn no cell shading. This design using high purity N-type doped silicon has extremely low degradation, lowers electrical resistance, improves high temperature performance and enables the Neon R modules to achieve an impressive 21.7% efficiency (375W).
---
New LG Products In 2019
At Intersolar Europe and the All Energy expo in Australia LG showcased the latest generation ultra-efficient solar panels, plus a new range of energy storage systems ESS and several innovative new products including:
New V5 series high performance solar panels
LG home energy storage system plus lithium batteries
Smart home energy management system
Solar electric vehicle roof systemSee full details in the latest LG article
LG Residential Solar Panels
Neon 2 – 330-355W
The Neon 2 range with 330 to 355W power ratings utilise the sophisticated multi-wire 'Cello' technology in a standard 60 cell format. With an impressive 25 year product warranty on top of the 25 year performance warranty the Neon 2 range are some of the highest performance modules available. See more about Cello cells in our PV cell technology article.
See full details and specification sheet here – LG Neon 2 335W panels
LG Neon 2 335W Module – Black. Image credit LG
Neon R – 360-375W
The Neon R is the flagship of the LG range. With a maximum module efficiency of 21.7% the Neon R modules can generate up to an impressive 375W from a panel only slightly larger than a standard 60 cell panel. This performance is due to the high grade IBC N-type cells used. Naturally the Neon R modules also come at a premium price, being around 35% more expensive than more common mono P-type panels. However, with the price comes ultra-high build quality, long life, low light performance and high efficiency.
Note the 370W modules are currently only available in Europe and North America. LG are also working on further technology advancements to increase efficiency and boost the Neon R module power up to 380W by late 2019.
See full details and specification sheet here – Neon R 360W and Neon R 370W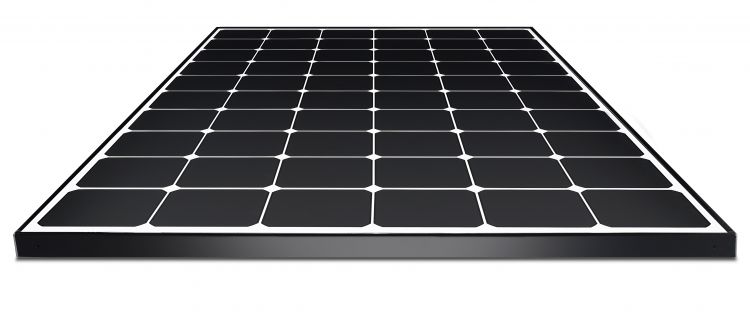 LG Neon R module with high efficiency IBC N-type cells – up to 365W. Image credit LG
LG Commercial and Bifacial Modules
LG also manufacture a range of large format (72 cell) solar modules for larger scale commercial applications using the same advanced cello multi-wire technology, as well as dual sided bifacial modules which can increase power output by up to an additional 27%. See more about bifacial technology here.
Video explaining LG NeON 2 BiFacial modules. Video credit LG
Full details and specifications
LG Neon 2 – 405W 72 cell
LG Neon 2 – 390W bifacial